Meet The Band!!!
FastForward is: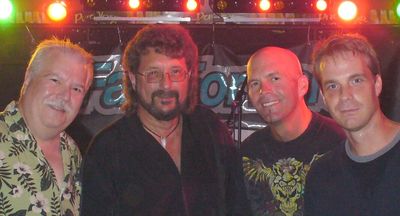 Fast Forward has been in it's current formation since April of 2000. However, the band has a history spanning 12 years in the West Lafayette area. The bands founding members are Dave Morse and Tony Maughner.
Tight, clean, powerfully energetic, and professional, are some of the adjectives best used to describe Fast Forward.
Starting with a repertoire that runs the musical gamut from The Ventures to Ozzy Osbourne, this four piece band features: strong lead vocals, layered keyboards, and melodic vocal harmonies.
Along with their own unique style and presence, Fast Forward provides an entertaining show for all.
The next time Fast Forward is in your area, come see for yourself.
Scott Schroeder - Drums, Vocals
Tony Maughmer - Bass, Vocals
Dave Morse - Keyboards
Kenny Rudd - Vocals, Guitar
Donna Morse - Sound